El Cielo Dark (Classic Espresso) + La Tierra (Juicy and Fruity) + El Cielo (Silky and Floral)
In SUMA bundle, you get them all three, the complete palette!

 SCA Score: 84+ points (Very good)
____________________
NEW! 1 Kilo = 5 m2 conservation of tropical forest of Colombia. Home to endangered species like Jaguars, Curassow birds and many others
_____________________
Tax (VAT/MwSt.) is included.
Shipping will be calculated at check out.
Free shipping for domestic orders over 20 Euros, international over 60 Euros
31,44 € – 56,78 € Inc. VAT
✩✩✩✩✩
I've never had coffee as good as yours. Super tasty! And it's also fairly grown and traded. It doesn't get any better than that.
✩✩✩✩✩
Very good, strong bean with minimal bitterness. Sustainable cultivation, fair price for customer and producer.
✩✩✩✩✩
Very tasty coffee and absolutely recommended, unfortunately in plastic packaging!
✩✩✩✩✩
Taste top. Sustainability idea is very good, but lacks seals or more trustworthy information on the sustainability concept.
✩✩✩✩✩
Thank you for allowing us to make a small contribution. We will keep recommending your café to others!
✩✩✩✩✩
Love the concept. Would like buy again if there was a stronger roast. Light roast was a little too watery. Underlying flavors were wonderful.
✩✩✩✩✩
The whole process of buying Café del Cielo was absolutely positive. Ordering on the website was easy and efficient, the shipping was very fast and the coffee is delicious, being the first thing that accompanies my day.
✩✩✩✩✩
Great coffee! And great sustainable concept! I sent coffee packages to family and friends as gifts and received great feedback on the taste! Keep going! :-) I will order again soon.
✩✩✩✩✩
I liked the taste of the coffee. We liked the presentation of the packaging very much. But the most important thing to me is that the farmers are paid well and appropriately for their work Sustainability is the second important point for me. A great project!
✩✩✩✩✩
We found the bean a bit too light and the coffee with too much acidity. As an espresso, we did not like it, in the cappuccino was good.
✩✩✩✩✩
Absolutely supportable concept where you feel that it is pursued with a lot of heart and passion, fantastic and truly unique coffee taste! The price may be Justified, but is the reason why the coffee is drunk (so far) only on weekends and not every day.
✩✩✩✩✩
It all works great already, very well thought out concept, the coffee is delicious, there are enough social channels and access to the product. I will buy coffee from CDC again
✩✩✩✩✩
Super tasty, strong and full-bodied coffee! The concept behind the strong product is very convincing. Especially the transparency, education and artwork are impressive. I look forward to the next harvest and the roasted result!
✩✩✩✩✩
The shipping is very fast. The packaging is beautiful and very adequate. My only concern, is that for the amount I consume, it is too expensive. Attention!!! It does not mean that it is not worth it. It means that it is not in my budgeted priorities.
✩✩✩✩✩
Very good coffee taste and is also well tolerated by sensitive stomachs since it contains minimal irritants.
✩✩✩✩✩
We are very happy with the coffee. We love the caramelized and chocolaty aroma. On the palate it is quite pleasant and we enjoy every cup!
✩✩✩✩✩
I am absolutely in love with this coffee! Its aroma is rich and perfectly balanced. It feels like a warm embrace and it invites you to slow down and really enjoy a moment of pause.
✩✩✩✩✩
The packaging is beautiful, elegant and shows a high level of attention to details. I love Café del Cielo's mission and will continue supporting their project for years to come!
✩✩✩✩✩
The delivery of the coffee was swift and the taste is excellent. I gave thecoffee to many friends for Christmas as a present and all are delighted.
Coffee Producers: Luisa Mejia & Francisco Minotta
Altitude: 1800 m
Origin: Filandia Colombia – Single Farm
Process: Harvested and selected by hand, washed, and fermented for 36 Hours
Roaster: Axel Datschun, Loppokaffee (Kiel – Germany)
⸻
For most coffee companies the story starts with a bean. For us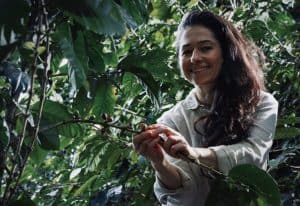 , it starts with the seed!
We are a tiny coffee farm in the Andean montains of Quindio Colombia. The rare quality of the volcanic soil and the high altitude (1.800 m) create special conditions for the unique quality of our coffee.
We used the traditional washed method and then left the coffee to ferment for 20 hours. This process ends in a very clean and juicy taste, typically found in Colombia's Coffee. Our coffee is then roasted to perfection in Kiel – Germany by Axel Datschun/ Loppo Kaffe. Our roast profile follows the natural taste of the coffee (Omni-roast). As a result, we present a very unique flavor profile, that pays respect to the terroir and the work of our team in our microlot.
Our sustainably grown coffee has a unique and exquisite flavor profile with notes of toffee caramel, melted chocolate, red wine, and roses, making each cup a true indulgence.
Our coffee is produced using regenerative agriculture and the traditional washed method, resulting in a very clean and juicy taste that has been awarded 85 SCA points, meaning it's excellent in quality.
We are committed to supporting fair wages and job training for our workers, as well as conservation efforts that preserve tropical forests and their endangered species, so you can feel good about the coffee you're drinking.
In 2022 Colombia has been affected by "La Niña" (The girl). This climate event increases the amount of rainfall and decreases sunshine. In practical aspects for our farm, it means more costs to control weeds, more costs to dry the coffee and less production.

But despite all those challenges, we believe and are committed with this transformation and change making and are focused in one thing: producing delicious high quality Colombian coffee in harmony with nature and respect for the people behind it.

We strongly believe in the power of nature and aspire to understand how a productive ecosystem can work in harmony with nature and people and not against it. We seek to show that we all together have the power to make a change with the decisions we make.
Luisa Mejia & Francisco Minotta
Our omniroast profile makes our coffee suitable for both filter coffee and espresso, giving you the flexibility to enjoy it however you like.
Our coffee is freshly roasted every week, ensuring that you receive the highest quality product with the most robust flavor possible.
By purchasing directly from our farm in Colombia, you're cutting out the middleman and getting the freshest and highest quality coffee possible.
With every kilo of coffee purchased, we are conserving 5 m2 of tropical forest in Colombia, making it easy for you to support our conservation efforts.
By purchasing directly from our farms in Colombia, you're cutting out the middleman and getting the freshest and highest quality coffee possible.
Not easy for a small farm.
Silky and Floral
Notes of Cacao, Vanilla, Red Apple and Figs