We are Cafe del Cielo, a premium
coffee brand making a radical change.
We started as a small farm in Colombia in 2017 on a mission to demonstrate that coffee can be produced in harmony with nature and respecting the people who produce it.
Now, more small farms are joining!
In Germany our home is in the city of Kiel, way up in the north by the sea. In Colombia our home is in the mountains of the Andes, in Filandia Quindio.
We are a female owned business contributing to fight inequality, poverty, climate change and biodivesity loss.
loves rock music and is a great singer. He manages the farm and treats the coffee plants as his own children.

He makes sure our coffee is of great quality and is cultivated in harmony with nature.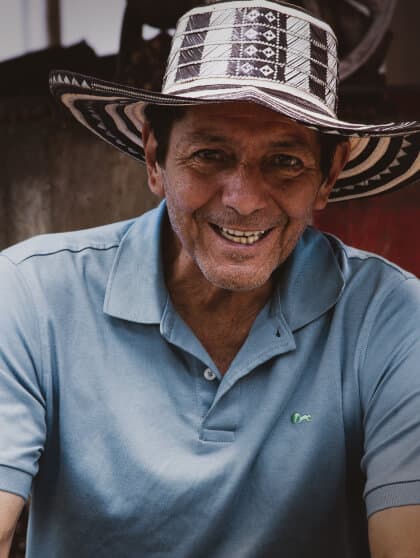 "I feel proud of seeing our plants growing so strong without applying chemicals. It is more work, but we do it with lots of love."
The most delicate touch to the farm. She has a special talent for picking the most beautiful coffee cherries. She loves Andres and is a fantastic cook.
enjoys riding around and exploring the beautiful region with his motorcycle. He takes care of the cultivation tasks, controlling weeds with his machete.
He is in love with Carmen who is his wife and works at our farm.
He is Andres Father, is such a kind and warm soul. He supports our team during the harvest.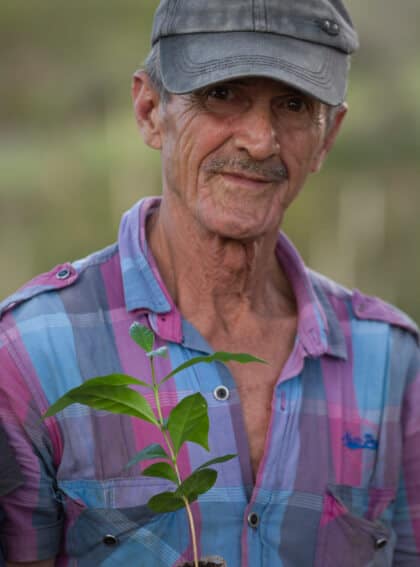 He visited Denmark once and said he loved the bread. He likes telling jokes and he supports our team during the harvest.
is a great salsa dancer and a coffee lover. She was born in Bogota, Colombia, and has lived in Germany for the last 15 years. She brings the research and innovation part into the coffee process. She is the founder and manages the business.
What is most inspiring to me with Café del Cielo is having a real possibility of making a direct impact on nature and on people. It is incredible to see how our team works tirelessly and how nature has regenerated over the years. We see it and feel it, this change is real.
It is on our hands to move away from mass produced coffee. Join the movement and celebrate good coffee!
A Colombian grows fair coffee for the people of Kiel.
#15 with Luisa Mejia, Cafe del Cielo
We could produce a coffee that cares for nature, that provides perspectives for the people who grow it and on top, that it tastes delicious?
This harvest we present a clean and sweet, silky cup with fl avors of cacao and vanilla, in balance with a vibrant acidity that reminds of red apples. It all closes with elegant fl oral notes of Jasmine and figs.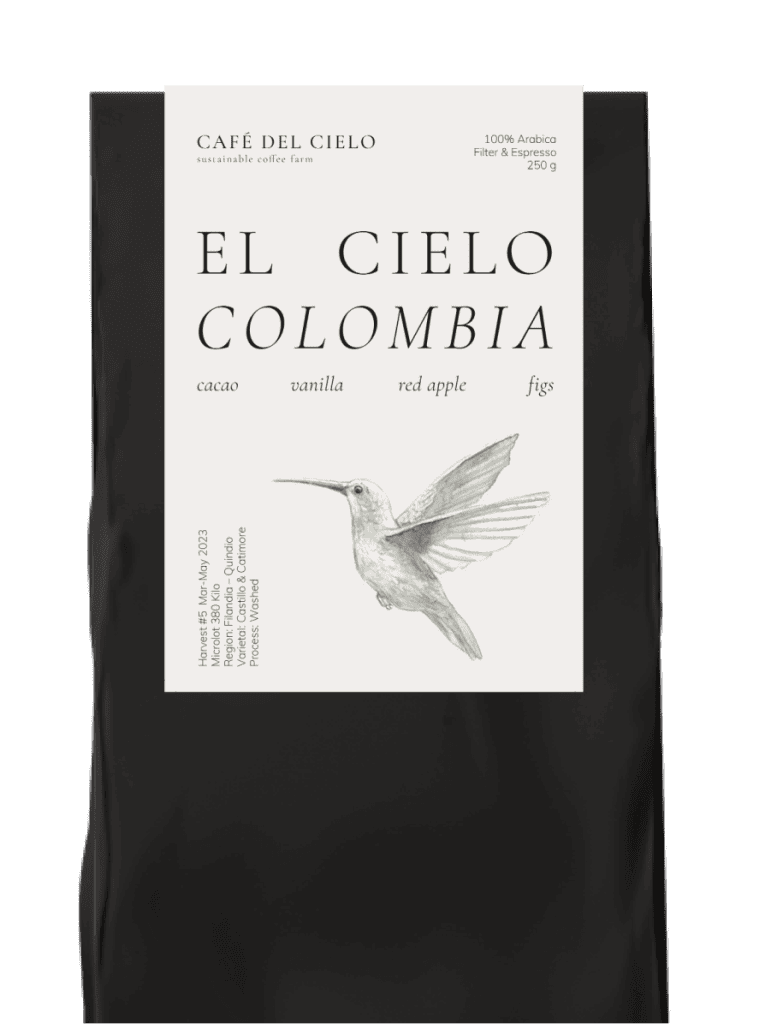 Better for the environment and for your health. Produced with regenerative agriculture. No pesticides, herbicides, or artificial fertilizers.
Our expert roasters skillfully craft each batch of coffee, paying meticulous attention to detail. This approach ensures optimal flavor development and an exquisite aroma in every batch. Our coffee is roasted freshly every week.
We grow a variety of other plants and native large trees to protect about 642 species of birds that call our region home.
The sweetness of our coffee is the result of the high elevation of our farms, the selected varietals and the experties of our team taking care of each step create a unique cup with great aromatic reachness.

Can you imagine that your morning coffee could help fighting climate change and improve the life of our workers. indulgence and higher purpose coming together.
First hand information for you to know where your coffee comes from, the names of the farmers who grow it, there stories.
SUPPORT AND COLLABORATIONS
Where people and planet are more important than profit.
Where the supply chain is purpose driven and creates benefits for all actors/stakeholders equally, we believe in collaboration rather than competition.
Where we as humans use our natural resources with intention and not in a careless way.
Where nature and humans co-exist in harmony.
WE ARE OPTIMISTIC
AND BELIEVE...
That we must act collectively now and be the change we want to see in the world.
That with our products and practices we can contribute to fight inequality, poverty and biodiversity loss and so heal the nature little by little.
That good things need time and must be enjoyed with intention.
TO FULFILL THIS
VISION IT REQUIRES...
Courage to act, change only happens if we take action.
Understanding that we are all dependent upon another, interconnected with others, with the people, with our nature, with our ecosystems and the animals who live in them and thus responsible for our impact.
Fairtrade is not fair enough.