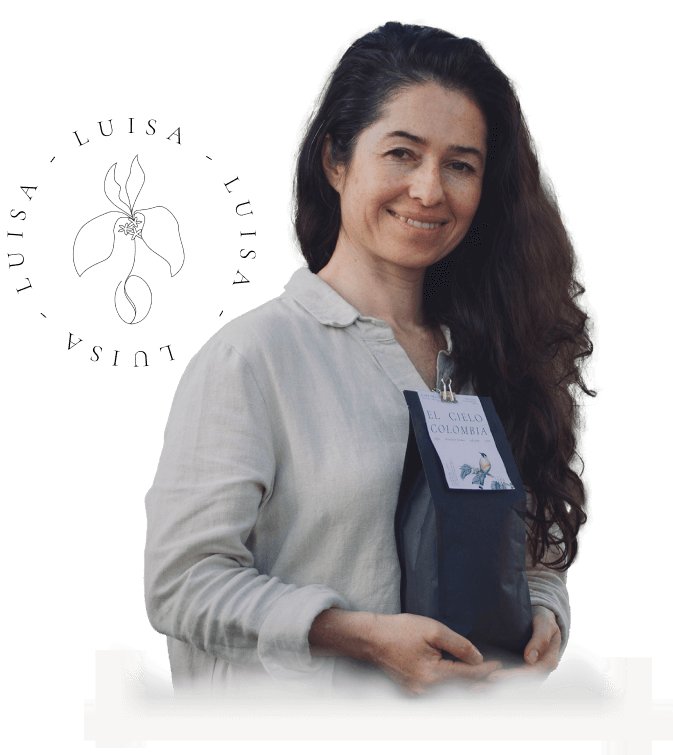 The Change maker & founder
Luisa was born in Bogota, Colombia, where she lived for 33 years. She studied biomedical engineering and emigrated to Germany 13 years ago to pursue a master's degree in biomedical engineering. She has worked for 15+ years in MedTech, innovation, and Digital Transformation in Healthcare. She's the foundational voice behind the Cafe del Cielo story.
Luisa's roots are in the coffee region of Colombia where part of her family still lives. Playing hide and seek in the coffee farms. Waking up every morning to birds singing and the smell of the coffee blossoms (think of the smell of Jasmin) are some of the loveliest memories of her childhood.

In 2017, after many years of living in Germany during a difficult time in her life, she decided to pay a visit to her family in the coffee region. This was a life turning event. This is when she fell in love with a tiny, neglected coffee farm with the most beautiful view over the Andes mountains.
At that time, she had no idea about coffee production, but she jumped into the adventure of transforming a conventional farm to organic one.
The first time she visited the farm,  it was like Jurassic Park. Huge weeds everywhere surrounding the coffee plants. And that's the moment when a new dream was born. She envisioned that little farm as a place where nature thrives in its genuine beauty. Huge vibrant trees and coffee plants with birds and other animals living in harmony.
Coffee became her passion when she set out to prove that coffee can be produced in harmony with nature, and providing a dignifying future for the people who produce it. This is how Café del Cielo was born. She has been leading the company since 2017.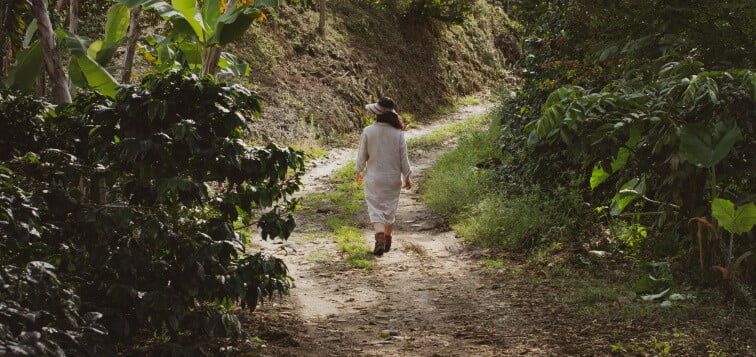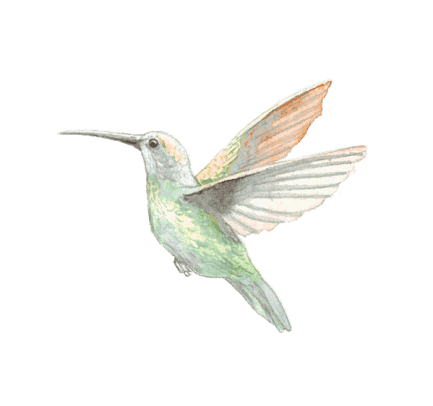 A sustainable coffee brand that delivers her heavenly coffee directly to its customers was created. Her coffee is grown using sustainable practices that protect the environment and the people who work on the farms. The coffee is then roasted using unique techniques that bring out the heavenly flavors and aromas.
"As I stood there, looking at the landscape of the Jurassic Park farm, the enormity of the challenge I had taken on began to sink in.
I still remember when my neighbors warmly welcomed me into their community. They have been coffee farmers their whole live and so their parents and grandparents. Slowly, thanks to many of them I began discovering and falling in love with the amazing process of producing coffee. But I was saddened by the difficulties that faced the small farmers in the region.
When I visited some of them, I noticed how difficult was for them to make a living from their work.  I learnt that the workers do not have any chance for retirement, or that very aggressive agricultural practices must be used to cut costs.
Beautiful trees were being cut down to make way for more coffee plants, chemical fertilizers were being used to boost production, and herbicides were being applied to cut labor costs.
But the root of the problem lay elsewhere- coffee producers had no control over the selling price of their product. The price was set by the stock market in London or New York, and small farmers had no choice but to sell their coffee at this price, often below the production cost.
"As I stood there, staring out at the farm, I asked myself the big question: under these conditions, how could we grow our coffee in harmony with nature and pay our employees fairly? The answer was not an easy one, but I was determined to find a solution.
In 2018, we decided to use regenerative farming to recover the soil. These methods were not widely known in the region back then, and I knew there was going to be major resistance from neighbors and from the team.
Before the purchase, the coffee plants were of old varietals that were not disease resistant. With increasing rainfall due to climate change, the risk of applying pesticides was high. The only way was to make a tough decision: to cut down 70% of the old plants, which counted for around 4.000 adult plants. My employees and neighbors called me crazy.
We started planting a disease resistant variety called Variedad Castillo and had to wait 3 years for the first harvest. This was a tough period for the whole team. We had no production, no income, and had to keep paying salaries and running costs.
It was a challenging time, but we persevered, knowing that it was the right decision. Despite the long periods of rain and other challenges, we have never had to spray any chemicals on our plants. Our plants have grown much stronger and birds and animals are now living and feeding on healthy soil. Our employees are proud knowing that they have had a positive impact on the environment".

3 years until first Harvest
It was really hard at first, because the waiting was truly long. We're harvesting 2 times a year now. Check if it's available now!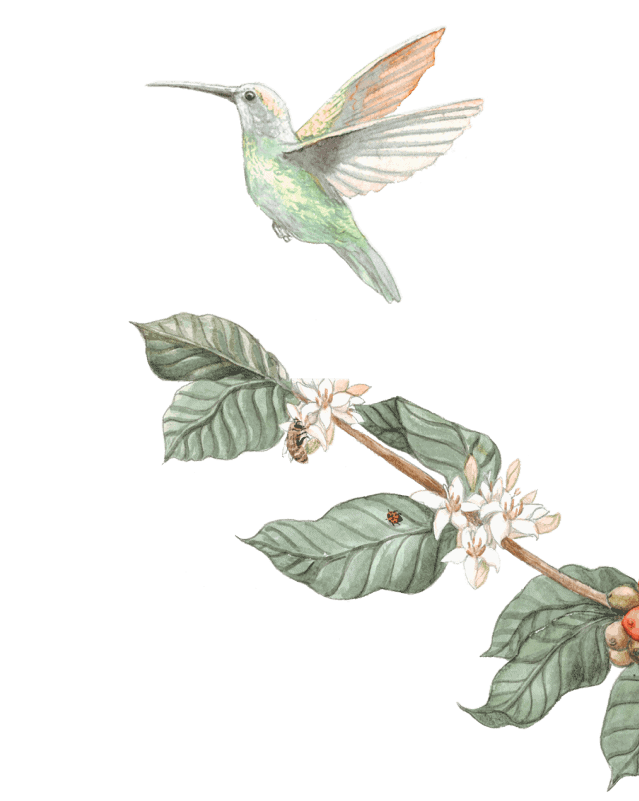 creating a change
in mindset of workers
The harvesters start their day early, before the sun has even risen. Armed with baskets and shears, they venture into the fields and carefully select only the ripest cherries, making sure to leave the unripe ones on the tree for another day.
This careful selection ensures that only the best cherries are used for our coffee, resulting in a flavor that is rich, smooth, and full-bodied.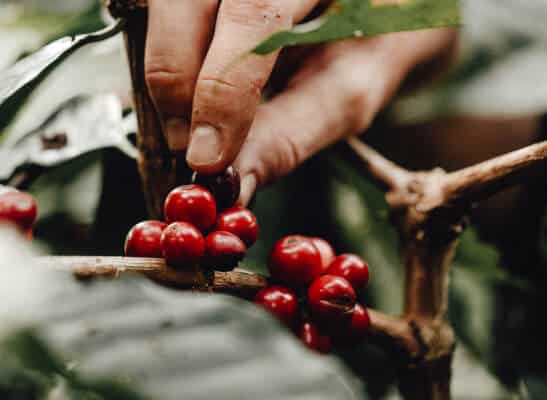 "After three years of waiting and hard work, we were excited to harvest our first batch of coffee beans in 2020. It was a significant achievement, and we felt proud of what we had accomplished.
However, this was also the year of the big coffee crisis. The coffee price drop to the lowest levels which made it impossible for small farms like ours to sustain their business. We knew we had to think out of the box to keep the farm alive and to pay our employees a fair wage. 
This is when we decided to take the supply chain into our hands  by importing and selling our coffee directly in Europe. We believed that many customers in Europe would love our ethically produced, high-quality colombian coffee. But it was not an easy task for a small farm.
End of 2020, the first bags of coffee arrived in the harbor of Hamburg and our team was filled with excitement and happiness.  We registered Cafe del Cielo as a company in Germany and are a female-owned business. We have imported, exported, processed, and sold all our harvests in Europe (approx. 2000 kilos)."
Our vision is not only to sell our coffee but also to empower other small farmers to sell their coffee without intermediaries and to convert their farms into organic, encouraging a social and ecological transformation.
Not easy for a small farm.
Think of fair trade but better!
We have reimagined and challenged the wicked coffee supply chain as smallholders ourselves

Cafe del Cielo is a pilot project with a bigger purpose. Now is the time to help others: We empower smallholder farmers to sell their coffee without intermediaries in Europe, receiving long-term opportunities and market access that enable them to live healthy, dignified, and prosperous lives. In exchange, they are encouraged to transform into regenerative agriculture growing their coffee in harmony with nature.
This harvest we present a clean and sweet, silky cup with flavors of cacao and vanilla, in balance with a vibrant acidity that reminds us of red apples. It all closes with elegant floral notes of Jazmine and figs.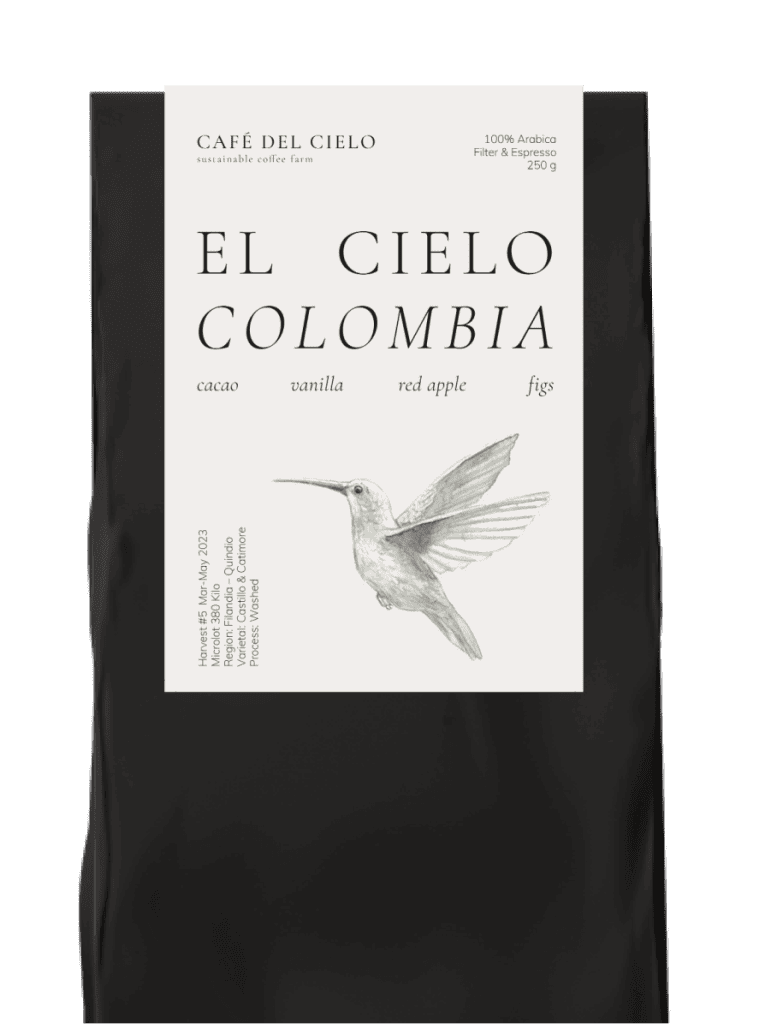 Better for the environment and for your health. Produced with regenerative agriculture. No pesticides, herbicides, or artificial fertilizers.
Our expert roasters skillfully craft each batch of coffee, paying meticulous attention to detail. This approach ensures optimal flavor development and an exquisite aroma in every batch. Our coffee is roasted freshly every week.
We grow a variety of other plants and native large trees to protect about 642 species of birds that call our region home.
The sweetness of our coffee is the result of the high elevation of our farms, the selected varietals and the experties of our team taking care of each step create a unique cup with great aromatic reachness.

Can you imagine that your morning coffee could help fighting climate change and improve the life of our workers. indulgence and higher purpose coming together.
First hand information for you to know where your coffee comes from, the names of the farmers who grow it, there stories.
What is most inspiring to me with Café del Cielo is having a real possibility of making a direct impact on nature and on people. It is incredible to see how our team works tirelessly and how nature has regenerated over the years. We see it and feel it, this change is real.
Get to know when new harvest is ready.
Be part of the change. Savor our latest harvest and join the Café del Cielo waitlist. Together, we can brew a more sustainable future for our planet.